Fort McKay Pilot Elders Advisory Group Participates in the RAMP Fish Inventory
Aug 30 2010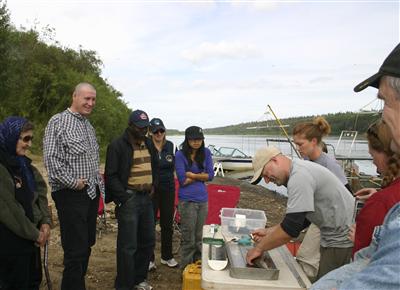 In August 2010, the RAMP Fort McKay Pilot Elders Advisory Group participated in the RAMP Athabasca River fish inventory survey with members of RAMP.
The primary purpose of the Pilot Elders Advisory Group is to recognize and incorporate traditional knowledge into monitoring and assessment activities.
An open discussion was held between the RAMP members and the Elders about the results that RAMP has reported over time. The Elders observed the techniques used to conduct the RAMP fish inventory survey, asked questions and discussed sampling procedures. Members of RAMP demonstrated external health assessments, non-lethal mercury sampling, collection of fish ageing structures, and sportfish tagging procedures on individual fish.
The Elders shared their views and observations on changes to the aquatic environment that they have witnessed in the area. RAMP members will provide monitoring results of the fish inventory survey and historical monitoring results at the next Pilot Elders Advisory Group meeting to address each of the specific points raised by the Elders.
The Pilot Elders Advisory Group is an important step towards improving how RAMP communicates monitoring results with the community of Fort McKay, and to creating two-way information flows between community members and RAMP.
For more information about RAMP, please contact the RAMP Communications Coordinator at: communications@ramp-alberta.org.
About RAMP:
The Regional Aquatics Monitoring Program (RAMP) is an aquatic environmental monitoring program initiated in 1997. The intent of RAMP is to determine, evaluate and communicate the state of the aquatic environment and any changes that may result from resource development within the Regional Municipality of Wood Buffalo.