RAMP Community Report 2009 Released
Dec 18 2009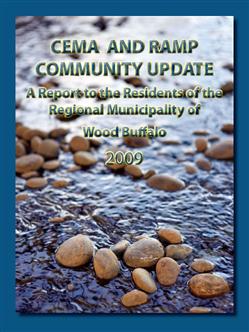 The CEMA and RAMP Community Update: A Report to the Residents of the Regional Municipality of Wood Buffalo 2009 report has been jointly released by the Cumulative Environmental Management Association (CEMA) and the Regional Aquatics Monitoring Program.
The 2009 Joint Community Report provides an update of the following RAMP-related topics, including:
Mandate and objectives of the program
Budget and resources of RAMP
RAMP monitoring activities and findings
2009/2010 Scientific peer review process
Community-assisted activities
Please click here to download the full report (PDF, 23.4 MB)
For more information, please contact Erin Johnston, RAMP Communications Coordinator, at +1 (604) 926-3261.
About RAMP:
The Regional Aquatics Monitoring Program (RAMP) is a science-based, multi-stakeholder program designed to monitor the health of Wood Buffalo's lakes and rivers in the context of oil sands development. Now in its 12th year, RAMP continues to grow and adapt to increasing oil sands development, regulatory needs, community requests and past monitoring results.